"Let's watch the old year die, with a fond goodbye."  -Bing Crosby
 Jim Shellenberger, CFA, CFP® | Financial Advisor
Regardless if they're good or bad, I believe all memories help shape us into who we are today. However, I don't know if there is much of a fond goodbye to 2022 regarding the financial markets. It was the worst performing year in U.S. markets since the 2008 financial crisis and one of the worst performing years for bonds ever. Now, 2023 is a new year and hopefully one that will financially treat us nicer than 2022 did. There are some updates to inform you all about 2023. They include updates from the SECURE Act 2.0 that passed at the end of the year and other updates already set to take place for 2023.
RMDs
The Required Minimum Distribution (RMD), set up in 1986, is a calculated minimum that one has to take out of their qualified retirement account. The reason for RMDs is that when you take money out of your retirement account, you must pay income tax on that amount. This is because you got an income tax break when you put it in the account, so the government now wants their taxes due. In 2020, the SECURE Act changed the age in which you have to start taking RMDs to 72. Now in 2023, the SECURE Act 2.0 changed the RMD ages to as follows: age 73 starting in 2023 and age 75 starting in 2033. This means that if you were going to turn 72 in 2023 and have to begin RMDs, you won't have to and can now wait till you are 73. Also, they already have legislation for 2033 to raise the age to 75.
Additionally, there was another change to the RMDs. Historically, if you missed your RMD for the year, the penalty was 50% of what you didn't take out versus what you were supposed to take out. With the SECURE Act 2.0, the penalty for an RMD shortfall starting in 2023 will be 25%, and if you rectify the shortfall within the "Correction Window", the penalty is 10%. In the past, if you took actions to fix it immediately upon noticing and usually worked with your accountant, you could often get the fee waived for a first-time offense. Hopefully, this will still be the case, but in best practice, it is something not to violate in the first place.
SIMPLE ROTH IRAs AND SEP IRAs
Another change of the SECURE ACT 2.0 is that SIMPLE Roth accounts and SEP Roth IRAs are now allowed for 2023. Before 2023, Roth accounts were only possible through your 401k (if it was offered) or opening a Roth IRA. Now people can have a Roth for either a SIMPLE or SEP. Even though the SECURE Act has passed this, there will be operational work that custodians and the IRS must do before people can capitalize on the availability of SIMPLE Roth and SEP Roth IRAs.
CONTRIBUTION LIMITS
Certain things were already set to change for 2023 that the SECURE Act 2.0 did not affect. These were mostly contribution limits being raised for work sponsored retirement plans, IRAs, and HSAs. Below is a table highlighting some changes that may apply to you and something you can capitalize on.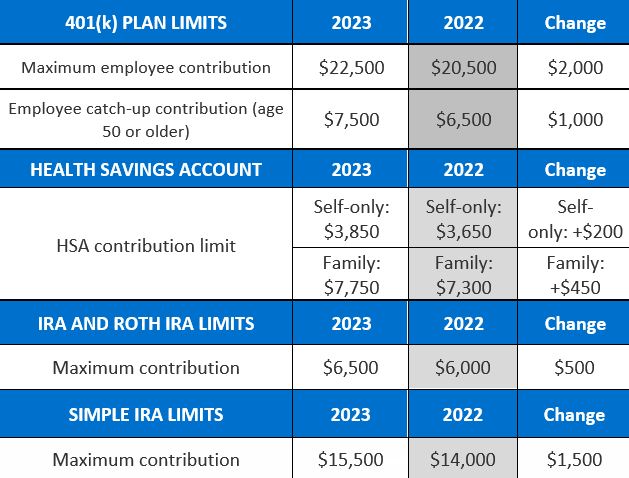 These changes may not or may not have had an impact on you, but if they do and you have any questions, please do not hesitate to contact me. We will see what 2023 brings but we must remember to control the variables we can and try to not stress about the ones we cannot. Our job, at Elevate, is to stress about those variables for you and try to position your investments in a way that looks to be favorable for the level of risk taken. We are always closely watching the markets and making sure to follow our process. We want to make sure we let fundamentals and processes lead us—not emotion and speculation.
Wishing you all a great 2023.
About Jim
Jim Shellenberger, CFA, CFP® is a financial advisor at Elevate Wealth Management, an independent, fee-only wealth management firm serving young professionals, pre-retirees, and retirees in Sheridan, Wyoming, and surrounding areas. With the mission of serving and educating, Jim is dedicated to providing comprehensive, top-notch services that not only help his clients reach their goals but also empower them to make the best financial decisions for their lives and walk toward their future with confidence. Jim is known for going the extra mile, not only offering valuable knowledge in investment management as a former investment analyst but building long-lasting relationships so he can give honest, customized advice and strategies that make an impact on their lives. 
Jim has a bachelor's degree in business administration with a minor in finance from the University of Wyoming. He is proud to be a Wyoming native and loves exploring the outdoors with his family—hiking, fishing, hunting, and backpacking. Faith is an integral part of Jim's life, and he always looks forward to attending church on Sundays, Bible study on Fridays, and being part of his church community. He's also an avid sports fan! Fun fact: Jim owns shares in the Green Bay Packers. To learn more about Jim, connect with him on LinkedIn.
* Chartered Financial Analyst® trademark is the property of the CFA Institute 
Past performance is no guarantee of future returns. Nothing presented herein is or is intended to constitute investment advice or recommendations to buy or sell any types of securities and no investment decision should be made based solely on information provided herein. There is a risk of loss from an investment in securities, including the risk of loss of principal. Different types of investments involve varying degrees of risk, and there can be no assurance that any specific investment will be profitable or suitable for an s investor's financial situation or risk tolerance. Diversification and asset allocation do not ensure a profit or protect against a loss. All performance results should be considered in light of the market and economic conditions that prevailed at the time those results were generated. Before investing, consider investment objectives, risks, fees and expenses.
Frontier does not directly use economic data as a part of its investment process.
Information provided herein reflects Elevate' s views as of the date of this newsletter and can change at any time without notice. Elevate obtained some of the information provided herein from third party sources believed to be reliable, but it is not guaranteed, and Elevate does not warrant or guarantee the accuracy or completeness of such information. The use of such sources does not constitute an endorsement. Elevate' s use of external articles should in no way be considered a validation. The views and opinions of these authors are theirs alone. Reader accesses the links or websites at their own risk. Elevate is not responsible for any adverse outcomes from references provided and cannot guarantee their safety. Elevate does not have a position on the contents of these articles. Elevate does not have an affiliation with any author, company or security noted within. Elevate reserves the right to remove these links at any time without notice.
Exclusive reliance on the information herein is not advised. This information is not intended as a recommendation to invest in any particular asset class or strategy or as a promise of future performance. References to future returns are not promises or even estimates of actual returns a client portfolio may achieve. Assumptions, opinions and estimates are provided for illustrative purposes only. They should not be relied upon as recommendations to buy or sell any securities, commodities, treasuries or financial instruments of any kind. This material has been prepared for information purposes only and is not intended to provide, and should not be relied on for, accounting, legal, investment or tax advice.
Elevate Wealth Management is the Financial Planning division of Frontier Asset Management and is wholly owned and operated by the firm. Frontier Asset Management is a Registered Investment Adviser with the U.S. Securities and Exchange Commission; however, such registration does not imply a certain level of skill or training and no inference to the contrary should be made. Additional information about Frontier and its investment adviser representatives is available on the SEC's website at www.adviserinfo.sec.gov. 
Frontier's ADV Brochure and Form CRS are available at no charge by request at info@frontierasset.com or 307.673.5675 and are available on our website www.Frontierasset.com. They include important disclosures and should be read carefully.
It is generally not possible to invest directly in an index. Exposure to an asset class or trading strategy or other category represented by an index is only available through third party investable instruments (if any) based on that index.                                     010923DWM010924
By Jim Shellenberger, CFA, CFP® We've all procrastinated at some point. Maybe it was a homework assignment when you were in school or that house …