Biblically Responsible Investing
Biblically Responsible Investing (BRI) is a way of investing to align your faith with your financial choices. We know that values guide the way we speak, what we say, and everything we do. It is not as common to think about investing and biblical values and the impact the combination of the two can have. The basic idea of BRI is to invest with the "good" and steer clear of companies that go against biblical principles.
Investing in the "good" involves focusing on companies that operate according to biblical values. The best way to summarize operating biblically is companies that "love your neighbor as yourself." This can be demonstrated by the company by the way they treat the employees, customers, and community.
Steering clear of companies that go against biblical principles include companies that profit from abortion and pornography. When screening, it is more common than imagined seeing funds with large percentages of violations. Below is a prime example of this situation. The SPY ETF is shown below: SPDR's ETF for the S&P 500®. With holdings shown as of February 10, 2021, we can see that the total violations amount comes to a significant 78.5% of the fund being invested in objectionable companies, as broken down by each category on the left.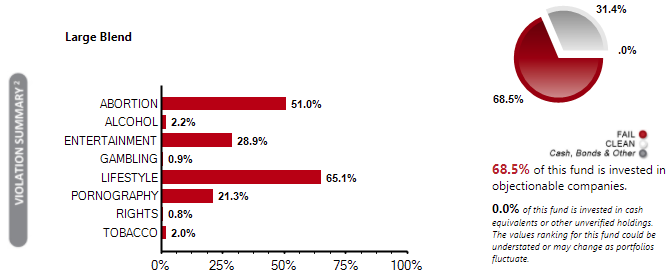 Source: eValueator http://evalueator.com
When allowed to choose between a seemingly unlimited universe of funds versus a very small pool of specialty funds, why might one go for the latter? To us, the answer is simple: Biblically Responsible Investing allows investors to align their investments with their beliefs. God calls us to be stewards of the money that is entrusted to us. Unfortunately, there is not a clear definition of what it means to be a steward of that money, and this idea is interpreted in many ways. However, it is especially important to remember that if a person owns stock, he or she is a part-owner in that company. Being an owner, investors have a voice to advocate for the company to act in a manner they see right. By implementing a BRI approach to investing, clients can invest in ways that are consistent with the moral standards of the Bible and where they know what values their money is supporting.
With multiple resources available, if you would like to know if your current portfolio follows a biblical approach to investing, we could take a look at it for you. With access to detailed information, you can gain a better understanding of BRI options and make educated investment decisions from there. If a Biblically Responsible Investing approach aligns with your needs and desires or you  want to know more, please reach out to Jim at jshellenberger@frontierasset.com.
Ready to talk?
Please reach out to set up an appointment.
Past performance is no guarantee of future returns. Nothing presented herein is or is intended to constitute investment advice or recommendations to buy or sell any types of securities and no investment decision should be made based solely on the information provided herein. There is a risk of loss from an investment in securities, including the risk of loss of principal. Different types of investments involve varying degrees of risk, and there can be no assurance that any specific investment will be profitable or suitable for an investor's financial situation or risk tolerance. Diversification and asset allocation do not ensure a profit or protect against a loss. All performance results should be considered in light of the market and economic conditions that prevailed at the time those results were generated. Consider investment objectives, policies, management, risks, charges, and expenses carefully before investing. The performance of Frontier's BRI offering, our Christian Worldview Strategies, will differ from our regular strategies.
Exclusive reliance on the information herein is not advised. Asset allocation, diversification, and rebalancing do not ensure a profit or guarantee against a loss. Exclusive reliance on the information herein is not advised.  Assumptions, opinions, and estimates are provided for illustrative purposes only. They should not be relied upon as recommendations to buy or sell any securities, commodities, treasuries, or financial instruments of any kind.  This material has been prepared for information purposes only and is not intended to provide, and should not be relied on for, accounting, legal, investment, or tax advice. Frontier obtained some of the information provided herein from third party sources believed to be reliable, but it is not guaranteed, and Frontier does not warrant or guarantee the accuracy or completeness of such information. Frontier's use of external sources should in no way be considered a validation.
It is generally not possible to invest directly in an index. Exposure to an asset class or trading strategy or other category represented by an index is only available through third-party investable instruments (if any) based on that index.
| | |
| --- | --- |
| INDEX | INDEX DESCRIPTION |
| S&P 500 | Represents U.S. large-company stocks. It is a market-value-weighted index of 500 stocks that are traded on the NYSE, AMEX, and NASDAQ |
061020CST043021